A Wonderful Re-post from Ed Gorman's Blog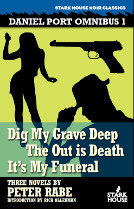 Ed here: Before we get to the extremely important Peter Rabe trio I want to give a shout-out to the man who wrote the single best utterance I've ever read about Rabe. That would be Rick Ollerman. And that utterance leads off this trilogy.
Rick's got cred not only as one of the savviest and wisest critics you'll find anywhere; he also has the same kind of cred as a novelist. A while back Stark House published two of Rick's novels Turnabout and Shallow Secrets. If Gold Medal was still in business today these would be in their top ten bestseller list. The key word here is "today" because while the noirish elements may echo the Gold Medal masters the stories and the settings are very much contemporary. Nastily so. You want grim, you want fast-paced, you want in-your-face moments you'll find them here. But you'll also find nuanced characters and a style that serves the story yes but is capable of giving us real resonance and even a kind of ugly beauty. I not only enjoyed them I admired them.
From Stark House:

Daniel Port Omnibus 1: Dig My Grave Deep / The Out is Death / It's My Funeral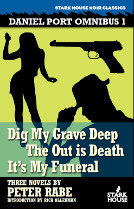 978-1-933586-65-6
Peter Rabe created the archetypical gangster in Daniel Port and wrote about him in six different thrillers. These first three books introduce us to Port and his criminal world. Here is Port the mastermind, trying to get out of the racket he helped create, and Port the savior, defending an old criminal against a younger, meaner hood. Rick Ollerman provides another one of his exceptional introductions. Pub date: November 2014.